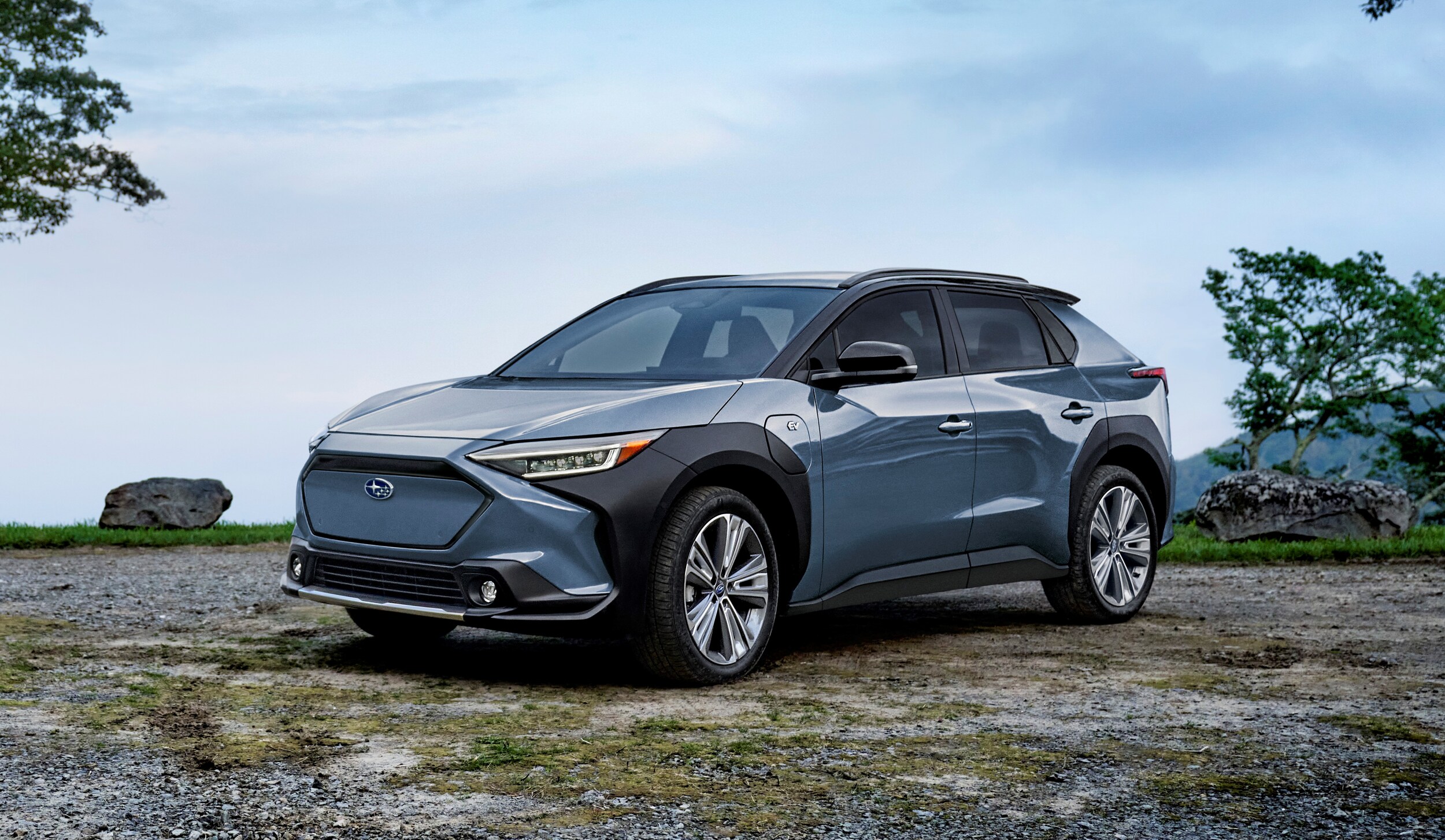 After much waiting and anticipation, Subaru finally revealed its first-ever fully-electric SUV — the Solterra — at this year's Los Angeles Auto Show. Long-awaited and highly anticipated, the Solterra is Subaru's first foray into the world of electric vehicles and it looks to be promising. Jam-packed with high-tech features and industry-leading safety technology, the Solterra will deliver the legendary Subaru performance you've come to expect — with none of the harmful emissions.
Do you want to get your hands on the first-ever fully-electric Subaru Solterra? If the answer is yes, then you need to stop by Subaru of Macon located in Macon, GA today! Here at Subaru of Macon, we stock the Macon area's widest selection of new, pre-owned and certified pre-owned Subaru vehicles. If you're searching for the best deal on your next Subaru, you'll find it here at Subaru of Macon today!
The Versatile Adventurer
Built for zero emissions and tons of capability, the Solterra is Subaru's first fully-electric SUV and coming in 2023. The Solterra — like most Subaru models — will feature Subaru's iconic Symmetrical All-Wheel Drive system with StarDrive® Technology. With the addition of Subaru's StarDrive® Technology, owners of the Solterra will experience unparalleled traction and capability no matter the weather or terrain. Equipped with StarDrive® Technology, the Solterra will feature driver-selectable regenerative modes as well as on-demand torque at all speeds.
The 2023 Solterra will come equipped with X-MODE® — standard on all Subaru SUVs — which will allow for enhanced performance in off-road or low-friction environments. In addition to X-MODE®, the Solterra will feature Grip Control, a mode that features Hill Ascent and Descent Assist technologies. These features will help the Solterra conquer any adventure you take it on — whether on- or off-road.
Featuring a set of front and rear electric motors, the Solterra will produce 215-horsepower while also offering 8.3-inches of ground clearance. With space for up to five passengers and up to 126 cubic feet of cargo space, the Subaru Solterra offers versatility like no other electric SUV can. Up to 30 cubic feet of cargo space is available behind the 60/40 split-folding rear seats, making it easy to haul all of your adventure gear. Loading the Solterra will be a breeze, as it features a wide 41.3-inch rear gate opening and low liftover height.
If you crave adventure and need a versatile vehicle, look no further than the all-new 2023 Subaru Solterra. Fully electric and fully capable, the all-new Solterra makes adventuring more exciting than ever before thanks to it's set of zero-emission, 215-horsepower electric motors. Whether you're located in Macon, Centerville or anywhere in between, Subaru of Macon is the Subaru dealer for you. Stop by and place your order for the all-new Solterra here at Subaru of Macon located in Macon, GA today!
Solterra Safety
Built for more than just efficiency and capability, the Subaru Solterra will feature a bunch of active safety technology designed to keep you and your family safe while on the road. The Solterra will offer a plethora of driver assistance features such as EyeSight® Driver Assist Technology, Blind Spot Monitor with Lane Change Assist and Rear Cross-Traffic Alert. In addition to these features, the Solterra will come standard with the Parking Support Brake which automatically applies the vehicle's brakes if an obstacle is detected while in reverse.
A 360-Degree Surround-View Camera system will be available on the Solterra, a first for the Subaru brand in general. This surround-view camera system helps to increase driver awareness, allowing drivers to see all-around their vehicle with ease. In addition to the 360-Degree Surround-View Camera System, the Solterra will also come standard with Safe Exit Assist. This new safety feature alerts occupants — before they exit the vehicle — of approaching vehicles with an audio and visual warning signal.
In addition to these great safety technologies, the Solterra was built on the all-new e-Subaru Global Platform. This platform is completely unique to the Solterra and was designed to perfectly blend the all-wheel-drive capability and superior driving dynamics of the Subaru with world-leading safety features. When you get behind the wheel of the Solterra, you'll never have felt safer in a car, truck or SUV.
Stay visible in any condition with the Solterra's standard multi-element LED headlights with High Beam Assist. With High Beam Assist, owners of the Solterra can use their high beams without the fear of hindering oncoming traffic lines of sight.
Environmentally Friendly
Subaru designed the Solterra to be environmentally friendly, furthering their initiative for a healthier and more sustainable earth. In order to deliver on their promise for a better Earth, Subaru opted to use high-capacity lithium-ion battery packs in the Solterra. With these high-capacity battery packs, the Solterra will offer plenty of driving range on a single charge. The Solterra will be able to be charged anywhere thanks to its Level 2 AC and DC fast charging capability — allowing drivers to charge up to 80% of capacity in under an hour.
Traveling in the Solterra? No problem! Solterra's multimedia system can be used to help locate thousands of charging stations throughout the United States. There will be over 3,000 DC fast-charging stations and 38,000 Level 2 stations to choose from, leaving you with plenty of options when it comes to charging while on the go. If you're not on the road, home charging is made easy as the Solterra is compatible with Level 1 and Level 2 chargers.
Equipped with all-wheel drive, plenty of standard and available safety features and an all-electric range of more than 220-miles — the all-new Subaru Solterra is ready for any adventure you throw its way. Order your Subaru Solterra today, here at Subaru of Macon located in Macon, GA.
Eye-Catching Design
Based on Subaru's Dynamic X Solid design concept, the all-new Solterra is a look into the future of Subaru design and styling. Subaru seems to have aimed for a bold, futuristic look while still maintaining some of the iconic Subaru design cues such as its hexagonal grille. The addition of wide, thin LED headlights contributes to that futuristic look just as much as the Solterras low hood line and sleek styling.
The Solterra's wide-stance and wheel arch moldings help give it an aggressive, off-road-inspired look. Continuing its aggressive look, the Solterra boasts a dual-spoiler on the top of its sloped rear glass as well as a ducktail spoiler at the bottom. Completing its futuristic look, the Solterra features trapezoid-shaped combination lamps positioned high up on the rear of the vehicle.
On the interior of the Solterra, Subaru opted for a clean, minimalist design throughout. The minimalist interior is designed around the high-resolution multifunction touchscreen display which allows the driver to control media and climate controls easily. Owners of the Solterra will also be able to opt for the available panoramic glass roof for a spacious and exciting interior experience.
Stay Connected
In the all-new Solterra, staying connected will be easier than ever before thanks to the all-new multimedia system and standard wireless Apple CarPlay® and Android Auto™ compatibility. A 12.3-inch touchscreen display will be available on the all-new multimedia system, allowing Solterra owners to easily control climate or entertainment on a single screen. Solterra owners can stay connected on the go with the optional center console wireless charging phone docking station.
With smartphone app connectivity, owners of the Solterra will be able to remotely control their climate settings as well as lock or unlock the vehicle. This remote feature will allow Solterra owners to easily warm-up or cool down their vehicle before departure, even while in the garage. When it comes to comfort and convenience, nobody does it better than Subaru.
The Solterra will soon be a part of the award-winning line-up of Subaru SUVs, which includes the Outback, Forester, Crosstrek and Crosstrek Plug-In Hybrid. Subaru expects the Solterra to go on sale in mid-2022, although pre-orders are being accepted now at Subaru of Macon located in Macon, GA.
Order Your Solterra Today
Packed full of high-tech features and plenty of driver safety technology, the Subaru Solterra is one of Subaru's most highly-anticipated vehicles to date. Whether you're looking for a daily driver with no emissions or an off-road-inspired SUV, the Subaru Solterra is the modern-day SUV for you! Get yours today, here at Subaru of Macon located in Macon, GA.
Are you located in Macon, Centerville or somewhere in between? If so, Subaru of Macon is the Subaru dealership for you. Here at Subaru of Macon, we stock the largest selection of new, pre-owned and certified pre-owned Subaru cars, trucks and SUVs in the Macon area — so stop by and pick out your dream Subaru today!
Source Article: Subaru Newsroom