The 2021 Subaru Love Promise Customer and Community Commitment Award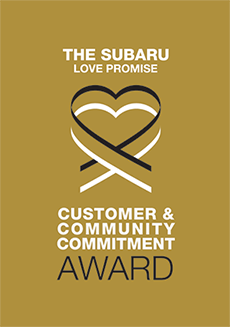 We've been nationally recognized for our dedication to our customers, our community, and the Subaru Love Promise.
We're honored to receive the 2021 Subaru Love Promise Customer and Community Commitment Award. This award nationally recognizes elite Subaru retailers who provide an exceptional customer experience at every interaction with Subaru. These retailers have also demonstrated an outstanding commitment to supporting passions and causes in their local communities in important areas such as the environment, community, health, education, and pets.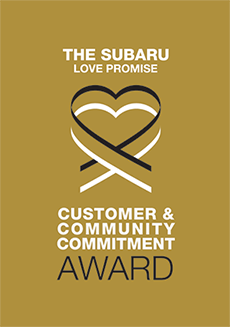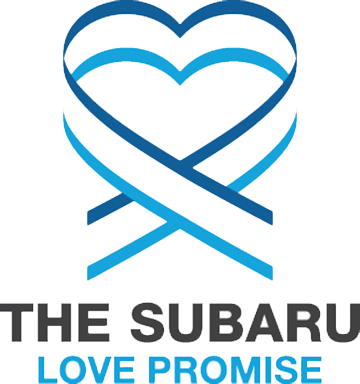 What is the Subaru Love Promise?
Subaru and our retailers believe in making the world a better place and the Subaru Love Promise is our vision of respecting all people. This is our commitment to show love and respect to our customers and to work to make a positive impact in the world.
How is Subaru of Macon dedicated locally to the Love Promise?
Our Love Promise can be seen in various partnerships with local charities and non-profits. We're grateful for the opportunity, not only to be a part of our community, but to serve it as well.
Macon Bibb County Animal Welfare, S.A.F.E, Reid Rescue, Maine Lab Rescue, All About Animals
Tattnall Square Academy, Dames Ferry Elementary
Jay's Hope, Navicent Health, Peyton Anderson Cancer Center
Love Promise Stories from Subaru of Macon
Subaru and Subaru of Macon believe in making a positive impact on the communities in which we live and work. We uphold that belief through our Love Promise Community Commitment. Every month, we select inspiring stories from customers and partners from around our area who strive to support our collective commitment and feature them here
Love Spreads Faster When We Work Together - Theresa S
The power of love and caring is that it supersedes many of the challenges of life. Here at Depual USA Daybreak, we were inspired in the midst of COVID-19 because Subaru of Macon continued commitment to their "Share the Love" campaign. While other organizations turned inward, you partnered with your customers to focus outward. "Share the Love" went on to assist Daybreak in reaching out to our brothers and sisters who are homeless. With your support we continued to assist our participants to meet their needs in the midst a pandemic. Basic necessities like showers, food, laundry, medical care, computer access, and case management were provided. We are proud that we had no serious COVID-19 cases. Even in the midst of the pandemic, "Share the Love" provided $24,715! WOW. Your love for the community is unstoppable! Over 4 years this love has provided Depaul USA Daybreak with $98,841. With your support in 2020 Daybreak provided 18,649 visits to 1,572 people. Our clinic adapted to provide masks, hand sanitizer, COVID-19 tests and vaccines. Case managers provided 1,817 visits for 797 people. Your support helped us serve many people including Ellistine Booze: In the midst of COVID-19, Ellistine rejoiced, when after months of working with Daybreak Case managers, Kim Stanley and Tamika Johnson, she was approved for SSI and Section 8. Simultaneously, a Dempsey Apartment opened up, and Ms. Donna wanted to donate her mother's furniture to someone in need. Kim and Tamika worked hand-in-hand with Ellistine to put these puzzle piece together. No more nights in unsafe housing with no running water. What is like at the age of 61 to finally have safe housing? Ellistine writes: "I am blessed. God (Allah) is good, and I am a sheep in the Lord's flock. He controls, tends to, and leads me. So, for me, God is good all the time. I began with no income yet here I am with stable income and permanent housing. I've been wondering when I was going to feel totally comfortable and confident. I'm not there yet, but when I get there the timing will be right. Right now, I am prayerful and blessed. I'm sure that overtime I'll get stronger in the Word and with the Lord and then I will begin to walk with confidence, ready and able to fulfill my duties. All in all, I am blessed to have loyal family members and good friends. Sister Theresa and Kimberly Stanley of Daybreak, Mrs. Grace, and her daughter were truly a Godsend from above, just as Jesus is." Daybreak thanks Subaru of Macon for partnering with us to "Share the Love."
---
Subaru of Macon - Great Partners - Kristin W
We have been partnering with Subaru of Macon for about4 years now. We absolutely love our relationship with them. They always go above and beyond at the events we have there. This year with COVID, our rescue has definitely been hit hard financially with all of the cancellations of our fundraisers. We were so excited to see the October Event of giving $100 for every adoption in October! The team at Subaru of Macon got busy on working on advertising and social media posts to get the word out! We managed to get 36 dogs and cats adopted in October!! In those adoptions were 3 long time residents and a couple of special needs furbabies!! What a month!! We also had an adoption event at Subaru of Macon where we had one adoption and quite a few others that happened due to that event! We truly cherish our relationship with Subaru of Macon! We are so thankful for their love of animals and community! Sincerely, Kristin Wright Volunteer Coordinator/Special Events All About Animals Rescue
---
Share the Love is more than words! - Gary M
Share the Love is more than words! Recently, for the first time, I bought my first Subaru. A fine product indeed. The traction with all wheel symmetrical drive is outstanding under normal conditions, but in a rainy situation it is superior to anything I've ever driven. Additionally, the standard safety features demonstrate the commitment Subaru has for us, the general buying public. As a bonus, the service provided by Subaru of Macon is outstanding. Further If you appreciate a hassle free buying experience go there. Now back to the theme of Share the Love. Subaru of Macon financially sponsors several local organizations, such as Daybreak for our homeless population, but also their associates volunteer their own time in helping our community. We are blessed to have them as a business organization but more importantly as a group of individual citizens who contribute to our community...thank you Subaru of Macon Gary Musolf
---
"Sharing the Love" goes beyond donations and money - Sister Theresa S
"Share the Love," "Fill the Subaru," "Fill the Pantry": these have one thing in common, that they each say how Subaru of Macon reached out and helped Depaul USA Daybreak assist the 1,946 people experiencing homelessness that walked through their doors in 2019. Take a minute and think of resources you needed this morning to face the day: for basic hygiene - soap, shampoo, conditioner, toothpaste, a toothbrush; for breakfast - cereal, fruit, coffee, napkins; for clean clothes – laundry detergent; for basic needs – toilet paper. These items are not readily available to people who live on the street, and yet the need still exists. Subaru of Macon recognized that need, and those items were included in the many donations that Subaru staff and their generous customers collected for Daybreak. On December 20, 2019, staff from Subaru of Macon drove to Daybreak with a Subaru filled with treasures. The Daybreak team smiled as Subaru employees and Daybreak participants worked together to fill the pantry with the much-needed supplies. "Sharing the Love" goes beyond donations and money. Compassion makes all the difference in the way Subaru connects with the Daybreak community. For example, at the "Share the Love" kickoff, some of the Daybreak participants accompanied the Daybreak director for the event at Subaru of Macon. One of these participants was a veteran. Some of the Subaru team started talking to him about his time in the military and sharing their service stories with each other. They made him feel welcome. They shared the camaraderie that exists between people who have served our country. I was inspired by how they treated everyone with care regardless of whether or not they were coming to buy a car, with no regard for whether or not someone had the means to be a customer. When Daybreak hears the words, "Share the Love," the caring hearts of the people at Subaru of Macon come to mind.
---
All About Animals Rescue Adoption Event - Kristen W
This past October we had our second annual adoption event at Subaru of Macon in Macon, Georgia. As soon as we drove up, they had an awesome set up ready for us! We also had a family waiting on us to see our dogs because of the advertising they had seen about the event. Emily and the employees are always so helpful and thoughtful to what we may need for the event. They had all kinds of things for the dogs such as bandanas, treats and toys. New adopter supply kits were also stacked and ready to be handed out. It was such a great event! One of the adopters also purchased a brand new Subaru so their adoption fee was covered by Subaru of Macon! We are so thankful for this partnership that we have with Subaru of Macon! Their support of our animals in our community and Subaru's commitment to animals worldwide is phenomenal! We look forward to our planned events in 2020 with our Subaru of Macon family.
---
Great Minds Grow at DFE - Melody N
Subaru of Macon visited Dames Ferry Elementary in Gray, GA in October and donated well over 100 science books to the school! As part of the Subaru Loves Learning initiative, the dealership provided engaging and up-to-date science texts for DFE's students. All the books they provided have been winners/or finalists of the American Association for the Advancement of Science/Subaru SB & F Prize for Excellence in Science Books. Dames Ferry Elementary prides itself in being a school that focuses on Science, Technology, Engineering, and Mathematics (STEM), so the books were divided among grade levels to use in conjunction with their standards and long-term STEM projects, like composting, chickens, gardening, hydroponics, bees, and weather. In addition to the books, Subaru of Macon also donated a $1,000 e-gift card to Staples! This gift card will be used to purchase much needed supplies for students and classrooms. Dames Ferry Elementary appreciates Subaru of Macon's commitment to our students, our school, and our community. Because of Subaru of Macon's dedication and generosity, great minds can continue to grow and thrive here! Thank you, Subaru of Macon!
---
Make a Dog's Day - Andy A
Subaru is proud to establish the first-ever National Make A Dog's Day October 22nd. As part of Subaru Loves Pets month, we're inviting all dog lovers to do something extra special for their furry best friends. Plus, Subaru will be focusing our efforts on helping the hardest-to-adopt shelter Dogs –those with special needs-find homes. Get ready to fall in love withThe Underdogs. #MakeADogsDay Meet Gabi! Gabi has been at the Humane Society of NWGA (Northwest Georgia) for seven years. If you asked the volunteers to pick their favorite animal at the shelter, Gabi would win hands down. She does not do well with dogs or cats so must be the only animal in an adult only family. She loves people and will bond very quickly to you. Gabi would make someone a great companion. She is waiting patiently for her forever home. If you have room in your heart and your home for this sweet girl then please fill out an adoption application, highlight and right click this link: https://hsnwga.org/adoption/application-for-adoption/?fbclid=IwAR2Ie18p6U3ryKi-niIuIZFTd-waD98xrySl7IJmiRBXE239WP7dpODubiU #MakeADogsDay #SubaruLovesPets #TheUnderdogs
---
Dealership Extraordinaire! - Edward G
At 77 years, one might imagine that I have purchased several autos over the years--Chevy, Ford, Pontiac, Oldsmobile, Cadillac, Toyota, Honda, Chrysler, Dodge, and Plymouth, and finally a Subaru. Sadly, every single time I made a purchase, I felt like I had been taken advantage of by dishonest people, that is until I purchased my Subaru Outback from Jackson Automotive Subaru in Macon, GA. Sadly, during my last visit to a Toyota dealership, to look at the new Avalon, the GM was so rude to me that I promised never to purchase another auto from that dealership, as long as he worked there. However, at Jackson Automotive, the experience was quite different. From the salesperson to the General Manager, I never once felt uneasy, or pressured; in fact, I was confident that I was finally dealing with honest people at an automobile dealership. Of this I am certain, other dealerships could learn much from Jackson Automotive. Scott, the GM, really impressed me with his friendliness, openness, candor, and helpfulness. To be sure, he is a very valuable asset to this dealership. Jim, the guy who educated me concerning the car (a first time experience for me!) did a masterful job. I honestly think he knows more about a Subaru than the engineers who designed it. And, I should add, I think he was born for this job! This part of the experience was the proverbial "icing on the cake!" Finally, I just returned from my first trip (about 500 miles) in my new Subaru Outback and can honestly report that it drives like a dream. The various safety features literally take the stress out of driving. As I was driving, I tried to decide which feature I liked the most but the truth is I like them all! So, I am not only a fan of this Subaru dealership, but also a fan of Subaru!
---
Subaru and LLS Support Cancer Patients - Sydney T
On June 26, 2019, The Leukemia & Lymphoma Society - Georgia Chapter and Subaru of Macon had the pleasure of delivering 80 blankets and 30 arts & craft kits to the Peyton Anderson Cancer Center as part of the Subaru Loves to Care program. These comforting gifts were accompanied by personalized messages of hope written by the customers and staff of Subaru of Macon.This incredible act of generosity was warmly received by the Peyton Anderson Cancer Center staff who were thrilled to distribute these comforting gifts to their patients. LLS is proud to partner with Subaru to spread hope, love and warmth to those fighting cancer, across the country and right here in the Macon, Georgia community. Many thanks to everyone at Subaru of Macon and the Peyton Anderson Cancer Center, not only for a memorable day, but for supporting LLS's mission to cure blood cancers and improve the quality of life of patients and their families.
---
Thankful for your support - Kristin W
I volunteer for All About Animals Rescue in Macon, Georgia. I handle new volunteers and special events. I cannot express how thankful I am for the relationship that we have with Subaru of Macon. We are a nonprofit and receive no government funding. Our biggest fundraiser of the year is our Annual Rescue Run. Subaru of Macon gladly came on board this year as a Presented By sponsor for this event. As if that was not enough, Emily graciously provided many items for our runner goodie bags. Not stopping there, Subaru of Macon came out to the event showcasing a new vehicle and participated in Sponsor Giveaways with gas cards and shirts. Everyone loved having them there and their table was continuously busy. Once again, I am truly grateful for the love of animals that Subaru is known for but it is awesome to see it in action. Our furbabies and volunteers at All About Animals Rescue say THANK YOU! I look forward to our continued relationship! -Kristin Wright, All About Animals Rescue
---